Mechanical
Junior Service Designer
Archived
Full Time

e-Novia
As Service Designer, you will be involved in multidisciplinary innovation projects where you will apply your technical skills and competencies in the development of the assigned tasks.
You will report to Head of Technology for the organization of your job and your technical and professional growth and to Chief of Tech for the progress of your work on the different projects.
Main Areas of Activities:
Develop and execute user/market/technology research plans with a variety of research methods with users and subject matter experts;
Identify opportunities and re-framing problems from complex systems;
Communicate new visions and opportunities in creative and inspiring ways to diverse audiences (clients, executives, startups and investors);
Develop full end-to-end service experience strategies and value propositions;
Develop innovative business models to identify revenue opportunities, sustainability, infrastructure and growth;
Organize and facilitate creative workshops with diverse audiences (both in person and remote);
Developing, prototyping and validating service concepts with product and technical teams;
Experience in working in a startup environment or an entrepreneurial business is a plus
Required background and technical skills:
Technical competencies: applied expertise in service design and/or business design, that covers applied knowledge of system thinking, lean startup and/or design thinking; Relevant experience in facilitating different types of workshops; proven professional experience in applying methodologies within service design, design thinking or business design (customer journey mapping, empathy maps, service blueprints, business modelling, value proposition etc.…); strong written and verbal communication skills, including excellent presentation skills and storytelling; experience in project managing small and medium size projects (1-3 months in length with teams of 2-5 people in diverse disciplines); Demonstrated ability to communicate design ideas using visualizations tools;
Tools: Good knowledge in various visualization/prototyping tools (Adobe Creative Suite, Sketch, InVision, PPT); good knowledge of the Microsoft Office suite (Excel, Word, PowerPoint)
Other skills and required characteristics:
Education: Master's degree or PhD in Service Design, Product Service Design or Business Administration (MBA);
Work experience: 1 to 3 years of work experience in a professional setting with similar duties in design, marketing, business strategy or entrepreneurship;
Languages: English (B2). Good business command of the English language (both written and spoken)
Personal skills: Ability to work in a team, team building and lead, strong attitude to collaborative problem solving, self-learning abilities, entrepreneurial at heart, passion for emerging technologies and willing to deep dive into the discipline, obsession for detail
Travel: Available to business trips in Italy and abroad.
We offer:
Full time contract
Compensation in line with organizational role and individual competences and experience
Healthcare pack
Welfare pack
Fast and meritocratic professional growing
Customized Laptop and tools
Personalized training on the most innovative technologies
Participation to the most important international events
Grow within a team to be proud of
Location
Milano, Lombardia
Apply for Job
More jobs at e-Novia

Milano, Lombardia
Agency / Consultancy
8 months ago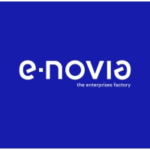 Senior Service Designer
e-Novia
Milano, Lombardia
Technology
2 years ago
More jobs in Italy

Service Designer Intern
illimity
Milan, Italy
Finance

UX & Service Designer Internship
CRIF
Bologna, Italy
Agency / Consultancy

Service Designer
ENGIE Italy
Milan, Italy
Utilities
3 months ago
Proud Partners


We can help you attract the best service design talent and grow your brand. Partner with us.
Don't miss important updates.
Join our email list to stay updated on new jobs, resources, events, and more to help you with your career
We'll use your email to send you updates about the report and other helpful service design topics. We hate spam just as much as you do, so we'll never share your email. Unsubscribe anytime.